The history of the birth of the snowshoes rEVVOlution
EVVO snowshoes are a technical innovation created in the heart of the Parc Natural du Pilat (42), designed for all snow-lovers.
The brand saw the light of day in 2017, led by Hervé Piron and Joel Varaine, both directors of MPI, a local company specialising in plastic injection moulding, accompanied by Olivier Reboullet, a designer passionate about sport. Together, they wanted to put the skills and expertise of their teams to the service of lovers of outdoor activities by offering them innovative and intuitive solutions.
EVVO wanted to give snowshoes a new turning point in their history. An overshoe in innovative fabric, easy to put on, offering protection and thermal comfort.
An intuitive adjustment system facilitating its adjustment over any type of shoe. An ergonomic design certified by podologists for a natural stride. A unique light, silent sole, with true all-terrain grip developed in partnership with Michelin, guaranteeing adherence and durability.
An innovation which won the Observeur du Design label in 2019.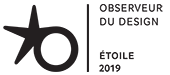 Follow EVVO on social media! Keep up to date with the latest EVVO news on social media...
Our partners
Without them, there could have been no revolution in walking!